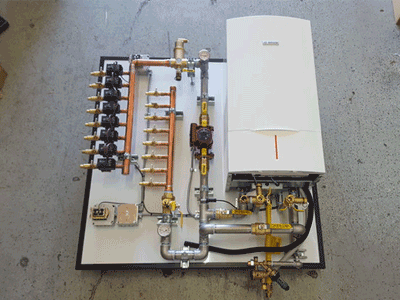 Custom Hydropanels & Heating Services
Our Hydrowest Hydropanel is the control centre for your customer's hydronic heating system. We've taken all the essential components of the hydronic system and pre-assembled them in a ready-to-install panel form. This facilitates the installation for you and creates a clean, uncluttered room for the customer.
Hot water (Hydronic) heating is our specialty. We have over 30 years experience in complete calculation and design. Complete prepackaged systems that we customize for you: for Residential, Commercial, Industrial, and Marine Applications.
Hydrowest Hydropanels are meticulously engineered yet also elegant. Many home and business owners are proud to have our panels on display in their homes and commercial buildings. They can be customized for the following heating applications:
– Radiant floor heating
– Snow-melting applications
– Domestic hot water heating
– Pool and spa heating, and
– Radiator and baseboard heating
– Radiant hot water heating systems
– Baseboard systems
– German panel radiator systems
– Hot water fan coil systems with optional Air Conditioning
– Domestic hot water design plate heat exchanger or tanks
– Onsite trouble shooting and consulting hourly rate or flat rate
Quality Control leads to Cost Control
The Hydrowest HydroPanel provides ease of installation, professional results, and top- quality design resulting in greater profits. No more missing parts or making extra trips. Let Hydrowest's trained technicians pre-assemble and test all the key system components for your HydroPanel.
Warranty Control
Every panel comes with a full one-year parts and labour warranty. What can be better than having all your controls, pumps, and other electronic equipment taken care of before you even need to be on the job site!
Inventory Control
Hydrowest inventories all the parts needed for your exact system requirements– no need to inventory job-specific parts for your next project while you wait for the last few pieces to trickle in. And, you won't be billed until your panel ships!
Homeowners' Delight
When it comes to heating a home, a homeowner may be interested only in comfort and peace of mind, but once they hear that their hydronic heating system will also reduce their heating costs, they experience an added unexpected bonus. The Hydrowest Hydropanel provides all this plus a leading edge design that any homeowner can be proud of.
Hydrowest currently has over 600 Hydropanels in operation.

Ashley Y
Customer
"They were very helpful with my needs. Very informative pleasant staff"

Liam M
Customer
"I just spoke to Gene and she was very helpful. It didn't seem like I was bothering her which is very refreshing"

Wayne B
Customer
"Went in to grab a few things for some outdoor fireplaces, and they were very helpful. Stand up folks"